Dimmable and Adjustable Flashing Speed EL Driver for 5 – 10m EL Wire
£12.50 – £15.00
Will make 5 – 10 meters of EL wire or 200 sq cm of EL Panel or EL Tape glow.
Adjust the brightness and speed of the flash when it is in flashing mode.
Choose between Continuously ON / Flash Mode / OFF.
Uses a single 9v battery that sits inside the unit, battery not supplied, or a UK mains adaptor.
Description
This listing is for a 9v (with square battery attachment) driver which will run 5-10 metres of EL neon glow wire or 200 sq cm of EL Panel or EL Tape
There are two dials on the front. One allows you to adjust the brightness and the other allows you to change the speed of the blink when it is in Flashing Mode
There is a button between the two wheels that allows you to choose between:
Continuous ON / Flash Mode / OFF
The driver has an on/off switch for the flashing function
The Driver takes a single 9V square battery that sits inside the unit
For an extra £2.50 you can add a mains adapter that plugs into the side
Same Day Postage If Ordered Before 1pm
DIMENSIONS:
Its dimensions are: 6cm x 6cm x 2.1cm
A 9v Square battery sits neatly inside
EL Wire or EL Tape plugs into the unit by a connector on the side
*All the EL wire we supply comes with a connector, so they plug straight into the driver*
A wide selection of other EL Tape, EL Wire, Sequencers, Drivers and helpful EL accessories are available from this store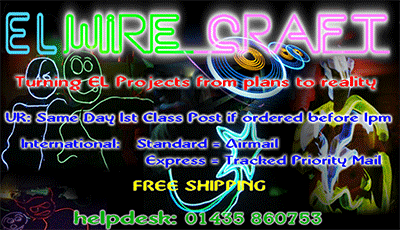 – – – – – – – – – – – –
EL wire has loads of uses
This neon wire looks amazing when decorating the interior or exterior of cars, can be used inside and outside houses and can even be threaded into clothes and hats
–
It is a cliché to say you are only limited by your imagination but with EL wire it is true!!!
If you have not seen it before it is like a really long glow stick that lasts over 5,000 hours
We're sure you will be amazed – feel free to message us with any questions