Micro Driver for 50cm EL Wire or 20sq cm EL Tape or Panel
£6.00
In stock
Description
This is the smallest portable EL Driver that we stock and runs off a single CR2032 3v battery, (not included)
It is only: 4.3cm x 2.1cm x 0.9cm
It can run up to 1 metre of EL Wire but it is ideal when running 50cm of EL Wire and under.
When it is used to drive more than 50cm of EL Wire it becomes less bright and the whistle of the inverter becomes audible.
This is a quiet unit so perfect for using in a hat, hair or mask.
The driver has a button with the following three settings:
On / Flash / Off
This EL Driver has a 5cm output wire with a standard EL Wire connector on the end.
Use this to connector to plug into EL Wire or a Splitter.
*All the EL wire we supply comes with a connector already attached so they plug straight into the driver*
**EL Drivers contain an inverter that switches the current from DC to AC and increases the voltage – for this reason EL Drivers are often called EL Inverters – they are the same thing**
Using a splitter, this driver can run many separate strands and colours of EL wire as long as the total length of wire is 1 metre or under.
FEEL FREE TO CONTACT US IF WE DO NOT HAVE YOUR REQUIRED LENGTH LISTED
A wide selection of other EL Tape, EL Wire, Sequencers, Drivers and helpful EL accessories are available from our online store.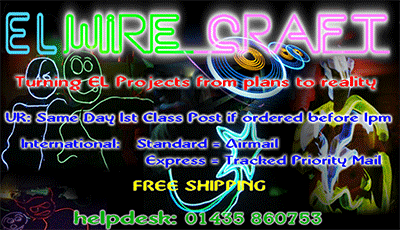 – – – – – – – – – – – –
EL wire has loads of uses
This neon wire looks amazing when decorating the interior or exterior of cars, can be used inside and outside houses and can even be threaded into clothes and hats.
The EL wire can be cut into smaller lengths and attached to another driver.
Or with some care, the EL wire can be attached to speaker wire to make patterns or extend the wire over gaps where it isn't needed.
It is a cliche to say you are only limited by your imagination but with EL wire it is true!!!
If you have not seen it before it is like a really long glowstick that lasts over 5,000 hours
We're sure you will be amazed – feel free to message us with any questions.
Additional information
| | |
| --- | --- |
| Weight | 0.017 kg |
| Dimensions | 7 × 4 × 2 cm |