We are always impressed and often actually proud of the different creative ways our EL Wire, EL Tape, Panels and Drivers get used
Here are some inspirational examples – please send your own, we have loads more that have been shared with us and i promise to upload more when i have more time
Flashing Frog's on the EL Wire Cocktails
Here's another fabulous creation from The Flashing Frog 'Freds Cocktail Bar' a neon style sign made from our very own EL Wire and I have to say it really looks like real neon.
And guess what!   he's been kind enough to share his in depth walkthrough and tips with us on his amazing blog.
Or you can check out his el wire creations youtube channel.
If you are lucky, you just might be able to snap up one of his originals or commission him to make one just for you.

A Passion for Cars – Buick and EL Wire
Kudos to Jonathan, who has lovingly reproduced this Buick motor car sign in EL Wire, which now stands proud on his garage wall along side his very own Buick.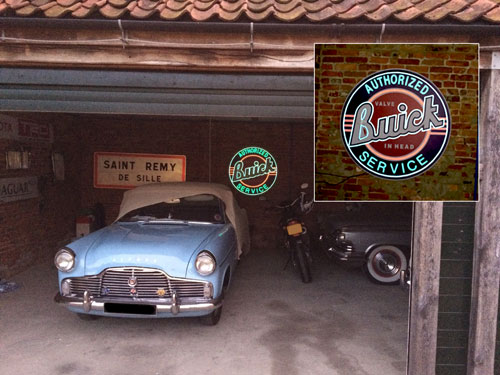 Italia Got Talent
Our EL Wire made it to the final of Italia Got Talent in 2013 with the great dance act Gli Elettricisti
SPOOK TRAIN (horror claymation film)
Quite often we get completely gobsmacked by the creative and original uses that you put our EL Wire too
But in this case its a smack in the gob that leaves you emotionally bruised!
We are really proud to be a small part of this unique and spellbinding feature
WARNING – NOT SUITABLE FOR CHILDREN (im not kidding)
Night-time Kayaking
From one extreme to another extreme sport:
we teamed up with Fuse to push the limits of EL Wire Waterproofing
The result is….. Extreme Glowing Kayaking!
Flashing Frog's EL Wire Creations
heres a halloween getup put together by Flashing Frog, one of our favourite EL Wire Crafters
He uses EL Wire and sometimes even LEDs to make amazing, controllable, flashing, glowing party clothes
you can check out his amazing costume blog full of in depth walkthroughs and tips
or check out his el wire creations youtube channel
FLashing Frog will occasionally take on commissions if you need something glowing made
or if you time it right
he may have just finished making a Flashingfrog original and you can snap it up for yourself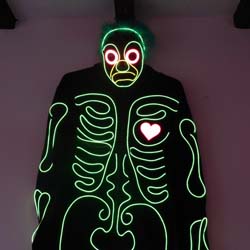 and you must see this great vid of his dotty jacket in action:
BOX 204
A profound and technically brilliant piece of theatre we are continuing to support is BOX 204
due to be finished in 2015, you will see from this mesmerising first scene that the final production is set to be a colossus