EL Panel – 7cm x 11cm (A7)
£10.00 – £42.00
A versatile 7cm wide x 11cm long Electroluminescent Panel.
Available in a range of colours.
Driver with a range of power supplies from mains, to batteries, to direct 12v connection etc.
**Please note** We are currently unable to airmail rechargeable Li-ion batteries to Northern Ireland, the Channel Islands, Europe or Internationally.
Description
This is a versatile 7cm wide and 11cm long Electroluminescent Panel.
It needs a Driver/Inverter – we have 4.5v, 6, 9v and 12v to find the most convenient one for you have a look at our inverters
Or contact us with your needs, and we'll work out what would be best for you.
They are currently available in these colours: Light Blue (Tron blue), Deep Blue, Pink, Deep Pink, Red, Orange, Grass Green and White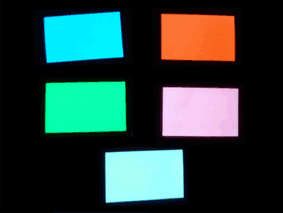 EL Tape is an incredibly versatile material it can be bent and wrapped around things.
It can even have holes and shapes punched into it and be cut to your chosen shape
We have EL Panels and EL Tape in all sorts of shapes and sizes including animated and sound activated moving panels