EL Tape – 1.5cm x 15cm of EL Glow Tape
£3.49 – £9.49
Description
This listing is for a 1.5 cm wide and 15cm long Electro-Luminescent Tape.
Currently in stock we have these colours: Light Blue (Tron Blue), Deep Blue, Red, Pink, Orange, Green and White
On the back of the the EL Tape it has wires with connectors already attached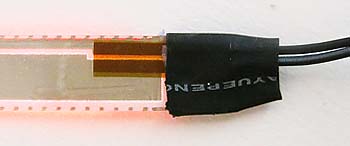 This EL Tape needs an Inverter/Driver to make it glow
The drop down menu gives you the options to buy this item with a 2xAA battery inverter, 1xAAA mini driver or no driver.
EL Tape is an incredibly versatile material it can be wrapped around things.
It can even have holes and shapes punched into it and be cut to your chosen shape
This Tape is also available in 2cm x 12cm, 25cm, 40 cm and 1 metre lengths