Mini Splitter for EL Wire or EL Tape – 2-way up to 6-way
£1.25 – £2.75
Just a total of 20cm long.
The wire up to the split is 10cm, then each channel is just 10cm long.
Ready to plug into your driver and EL Wire, EL Tape or EL panel.
Does not affect the total length of EL wire that a driver is rated to make glow.
Description
At Last! An end to that bunching up of wires in your glowing costume misery!
These half sized splitters are just 20cm long
Yes you heard it right, there is just 10cm of connector wire from the 'female' connector.
Then there is a junction, and several strands of connector wire head off for a further 10cm and end in a 'male' connector ready to plug into your EL Wire or EL Tape
And how many strands of Glowing EL Wire or Tape could I run off these splitters I hear you ask?
I give you not just 2, not just 3, even a 4-way splitter isn't enough
Yes that's right we go up to 5, and can you believe it 6….WAY….SPLITTERS!!!!!
This splitter has been painstakingly designed to help all you EL daisy chainers
When you find a 6-way splitter doesn't give enough of an EL hit any more, you're on the slippery slope towards daisy chaining which seems great at first as there are splitters plugged into splitters, into splitters.
And there's gorgeous EL Wire sprouting out here, there and everywhere
But there is always a price to pay for those who fly so high – yes, I'm talking about the bunching up of connector wires
What started as a bit of harmless glowing fun has now degenerated into a tangled mass of black connector wires like an electric Medusa
We have a fix for your fix and it is these half sized splitters
– – – – – – – – –
*ALL the EL wire we supply comes with a connector, so they plug straight into a driver*
– – – – – – – – – – – –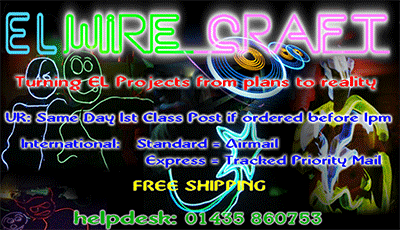 EL wire has loads of uses
This neon wire looks amazing when decorating the interior or exterior of cars, can be used inside and outside houses and can even be threaded into clothes and hats
–
It is a cliché to say you are only limited by your imagination but with EL wire it is true!!!
If you have not seen it before it is like a really long glow stick that lasts over 5,000 hours
We're sure you will be amazed – feel free to message us with any questions.