Standard Splitter for EL Wire or EL Tape – 2-way up to 6-way
£1.25 – £2.75
Description
These Standard splitters make your glowing costume or EL project exactly how you want.
These splitter cables allow you to run up to six separate strands of EL wire off of one driver/inverter (or another splitter)
The Splitter works for EL Wire, EL Tape or EL Panels
The splitter is 40cm in total length and the connector wire is 20cm long
I give you not just 2, not just 3, even a 4-way splitter isn't enough
Yes that's right we go up to 5, and can you believe it 6….WAY….SPLITTERS!!!!!
*ALL the EL wire we supply comes with a connector, so they plug straight into a driver*
– – – – – – – – – – – –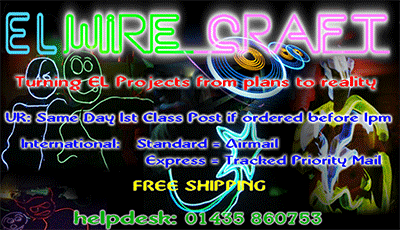 EL wire has loads of uses
This neon wire looks amazing when decorating the interior or exterior of cars, can be used inside and outside houses and can even be threaded into clothes and hats
–
It is a cliche to say you are only limited by your imagination but with EL wire it is true!!!
If you have not seen it before it is like a really long glow stick that lasts over 5,000 hours
We're sure you will be amazed – feel free to message us with any questions.