10 End Caps For EL Wire – 1.3mm, 2.3mm, 3.2mm or 5mm
£1.00
Options to fit 1.3mm, 2.3mm, 3.2mm and 5mm EL Wire.
Required to seal the end of EL Wire if you cut it to a different length than it is supplied in.
Description
This handy item is 10 pack End Caps of the main sizes of EL Wire.
(1.3mm, 2.3mm, 3.2mm or 5mm)
The thing about these end caps is that they actually cost us little money, so we feel a bit rude for selling them.
We've put it as free postage (UK only), and we'll do that first class so that's 65 pence down – so I guess you're paying 35p for us to find the bag with them in, count out 10 and then put them in an envelope.
We also stock a wide range of EL wire in all colours and drivers/inverters that run different lengths of EL wire from 1m to 300m which can be portable, run off car cigarette lighters, mains or even USB ports.
*ALL the EL wire we supply comes with a connector, so they plug straight into the inverter*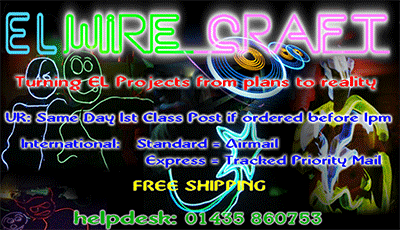 EL wire has loads of uses
This neon wire looks amazing when decorating the interior or exterior of cars, can be used inside and outside of the home and office and can even be threaded into clothes and hats.
It is a cliché to say you are only limited by your imagination but with EL wire it is true.
If you have not seen it before it is like a really long glow stick that lasts over 5,000 hours.
We're sure you will be amazed – feel free to message us with any questions you may have.