CHASING EL Wire Set – 3 x 1 Metre of Chasing EL Wire + Driver
£21.99
3 x 1 metre lengths of Chasing EL Wire. Available in various colours.
1 x Chasing EL Driver that is 9cm x 3.5cm x 2.3cm and takes 2 x AA batteries.
1 x Chasing 3 Way Splitter.
Description
This 'Chasing' EL Driver is 9cm x 3.5cm x 2.3cm and takes 2 x AA batteries – batteries not supplied.
'Chasing' 3 Way Splitter – this is designed only to be used with chasing EL Wire and will not work with standard EL Wire
3 x 1 metres of Electroluminescent Wire with a chasing motion.
This Chasing EL Wire is very bright and the chasing motion looks amazing
The 3 Chasing wires can be placed in different parts of the body to give an amazing effect.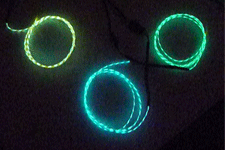 3 x 1m Chasing EL Wire, using just one Driver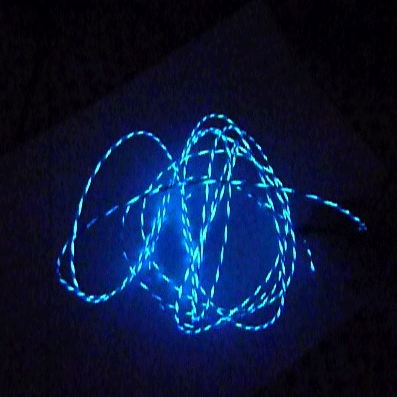 EL Chasing Wire
It is available in any combination of these colours:
Light Blue (Tron Blue), Pink, Orange, Lime Green and Green
The wire has a special connector on it so does not clip into standard EL Wire connectors and needs a Chasing EL Wire Driver and special Chasing Splitter
This Chasing Wire is also available in 50cm, 1m, 3m, 5m and 10metre lengths.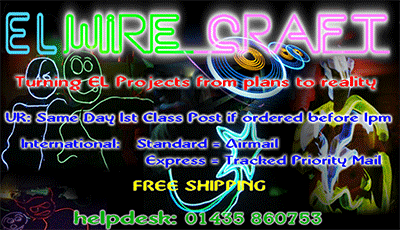 EL wire has loads of uses
This neon wire looks amazing when decorating the interior or exterior of cars, can be used inside and outside of the home and can even be threaded into clothes and hats.
It is a cliché to say you are only limited by your imagination but with EL wire it is true.
If you have not seen it before it is like a really long glow-stick that lasts over 5,000 hours
We're sure you will be amazed – feel free to message us with any questions you may have.