Clip Peg for EL Wire
£0.99 – £11.00
Description
Finally an end to sewing/gluing EL Wire misery!
Yes, are you too lazy, busy or cool to sew or glue?
or maybe you just want a simple solution to attach EL Wire that isn't permanent?
For this and many other solutions we have made the EL Wire Peg Clip!
Clip for EL Wire
These design is similar to headphone/mic cable clips – but these EL Clips are able to securely hold most EL Wire types (1.3mm, 2.3mm, 3.2mm and ULTRA 2.6mm)
The El Wire is very securely held in place and the powerful spring on the clip itself gives it a very tight grip on whatever it is pegged on to
The Clips can securely hold one or two El Wires at a time
These connectors are suggested to be used with our adaptable drivers
If you have never seen EL wire have a look at my other items – it is basically a thin cool glowing neon wire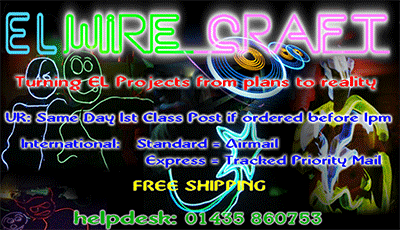 EL wire has loads of uses
This neon wire looks amazing when decorating the interior or exterior of cars, can be used inside and outside houses and can even be threaded into clothes and hats
–
If you have not seen it before it is like a really long glow stick that lasts around 5,000 hours
We're sure you will be amazed – feel free to message us with any questions.