EL Panel Illuminated Backlight for Spektrum DX6i and DX7 Controllers (may fit other models)
£12.99 – £18.99
Description
Ladies and/or Gentlemen may we present an Electroluminescent Panel and Driver/Inverter for the Spektrum controllers DX6i and DX7.
For the DX7 you will need to trim a little off the bottom of this Panel, (use sharp scissors and not a scalpel blade), and ensure that you reseal any 'cut' edges with glue before installing.
For the DX6i you will need to cut a little off the end of the Panel.
(For other models you will need to measure the screen size to see if it will fit)
The Panel size is 85mm x 55mm with a lit area of 80mm x 50mm.
The Driver should be powered straight from the device you are backlighting.
We have a choice of tiny waterproof 4.5v, 6v, 9v or 12v Drivers that are designed to be as small as possible so as not to take up too much space (29mm x 19mm x 24mm (L x W x H))
If you need help, please contact us with your requirements, and we'll work out what would be best for you.
Installing an EL Panel as a Backlight is a fairly easy procedure that basically involves accessing the screen of your device, cutting the EL Panel to the desired size, then wiring the Driver so it is powered by the device, then finally putting it all back together.
There are plenty of walk-through videos on YouTube showing step by steps on how to install an EL Backlight.
The following colours are currently available:
Deep Blue, Red, Light Blue, White, Pink, Orange and Green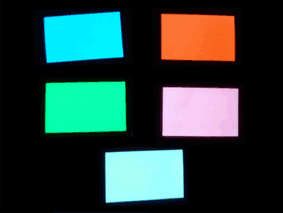 EL Tape is an incredibly versatile material ithat can be bent and wrapped around things.
It can even have holes and shapes punched into it and be cut to your chosen shape.
(Please be careful not to cut too much of the outer electrode off)
We have EL Panels and EL Tapes in all sorts of  sizes and colours; including animated and sound activated moving Panels.