EL Wire Repair Kit
£5.00
Kit comprises:

5 x Male EL Connector (that attach to the EL Wire itself).
1 x 6 way splitter.
Copper Tape
Wide and thin heat shrink tubing.
Choice of end cap size to suit the EL wire you are repairing.
Easy to follow instructions.
Description
Contents of the elwirecraft EL Repair Kit:
1) Instruction Booklet
2) 5 x Male EL Connector (that attach to the EL Wire itself)
3) 6-way Splitter
4) Copper Tape
5) Wide and Thin Heatshrink Tubing
6) End Caps
You Will also Need
1) Wire strippers
2) Soldering Iron + Solder
3) Scalpel
4) Heat gun or lighter
5) Helping Hands (if possible)
EL Wire Care
EL Wire is a very robust material – it can withstand fairly extreme temperatures between -20°C and 50°C. It is durable and the wire itself is water resistant. If the wire is likely to get wet or even be in a humid environment then make sure the end of the wire has been made fully waterproof as the connection point is sensitive to moisture.
Even if the material itself is hardy, like any electronics it has to be looked after if you want it to last a long time.
This goes double if the EL Wire is going to be worn and where it will be exposed to various stresses that electrical items are sensitive to.
There are some tips on the back page to get the most out of your EL Wire, but you must also remember that the life of your
EL Wire will be reduced if it is exposed to repeated bending stress, extreme pulling tension or humid conditions.
EL WIRE WITH CONNECTORS ATTACHED
All the EL Wire, EL Tape and EL Panels supplied by elwirecraft already have connectors attached and are ready to plug straight into a driver
(please note we always have stocks of EL Wire with connectors attached in lengths of 10cm, 50cm, 1metre, 3metre, 5metre, 10 metre, 15 metre and 25 metre)
The connectors for EL wire are generally universal – these are connectors that either attach to an EL Driver or will fit into a splitter that comes off of a driver
If you are cutting a piece of EL wire you may also want to put a cap on the end of it so these are supplied too
Cutting EL Wire couldn't be simpler, but re-attaching it is fairly easy but takes a little time and patience and is explained step by step in the instruction booklet
We can supply more copper tape and heat-shrink tubing here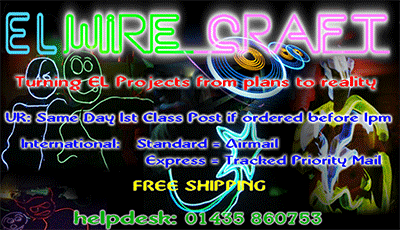 – – – – – – – – – – – – – – – – – –
If you have never seen EL wire have a look at my other items – it is basically a thin cool glowing neon wire
EL wire has loads of uses
This neon wire looks amazing when decorating the interior or exterior of cars, can be used inside and outside houses and can even be threaded into clothes and hats
–
If you have not seen it before it is like a really long glow stick that lasts over 5,000 hours
We're sure you will be amazed – feel free to message us with any questions