Car Lighter Attachment for EL Wire inverter
£3.50
Plugs into the car lighter socket.
The cigarette lighter attachment is fused and ends in a 2.1mm/5.5mm Jack Plug.
Suitable for powering any of our 12v EL Drivers.
In stock
SKU:

CLA
Categories: Car Modification, EL Accessories
Tags: 12v car adaptor, adapter, cool neon, el accessories, el wire, electroluminescent, electroluminescent wire, electronics, lighter attachment, neon wire, Portable
Description
This is a fused Car Lighter Attachment that plugs in to a 2.1mm/5.5mm Jack Plug, making it suitable for powering any of our 12v EL Drivers
These connectors are suggested to be used with our adaptable drivers
If you have never seen EL wire, have a look at my other items – it is basically a thin cool glowing neon wire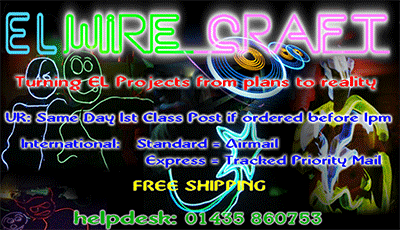 EL wire has loads of uses
This neon wire looks amazing when decorating the interior or exterior of cars, can be used inside and outside houses and can even be threaded into clothes and hats
–
If you have not seen it before it is like a really long glow stick that lasts around 5,000 hours
We're sure you will be amazed – feel free to message us with any questions.