Enclosed Battery Box (8 x AA) – 12V PORTABLE POWER PACK
£5.00
This enclosed power pack takes 8 x AA batteries and is an affordable 12v portable power supply for any of our adaptable or 12v EL drivers.
This is not a driver.
Batteries not supplied.
In stock
Description
This handy item is an enclosed battery box that takes 8 x AA batteries (batteries not supplied) and gives an output of 12v.
*Please note this is just a battery box, IT IS NOT AN EL DRIVER/INVERTER. They are available as a power supply for our EL Drivers or EL Sequencers.*
The size of this power pack is:
127mm x 72mm x 19mm and the lead for the output is 17cm long with a 2.1mm/5.5mm plug on the end.
This is a useful item for when you need to power a 12v appliance that you want to make portable
REMEMBER:
Standard alkaline batteries are 1.5v each, so 8 of them will make 12v, however rechargeable batteries are only1.2v each, so 8 of them in this battery pack will only produce 9.6v.
– – – – – – – – – – – – – – – – – –
 These battery packs are used to power powerful driver/inverters for EL wire
If you have never seen EL wire have a look at my other items – it is basically a thin cool glowing neon wire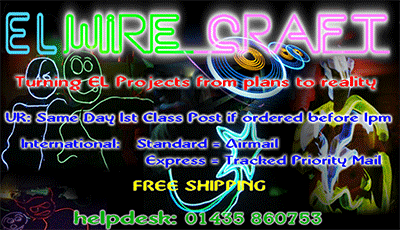 EL wire has loads of uses
This neon wire looks amazing when decorating the interior or exterior of cars, can be used inside and outside houses and can even be threaded into clothes and hats
–
If you have not seen it before it is like a really long glow stick that lasts around 5,000 hours
We're sure you will be amazed – feel free to message us with any questions.