Festival EL Wire Set = 3 x 1metre EL Angel Hair + Driver
£11.99
Description
The first (and perhaps only) rule of making an amazing glowing El outfit for a festival is:
Design it so you can go to the toilet easily!!!
This listing is for 3 metres of Angel Hair (1.3mm) Electro- Luminescent Wire, with a portable driver
The splitter lets you have 3 X 1 metre lengths of EL Wire attached to one driver/inverter.
The EL Wire can be any combination of these colours:
Light Blue (Tron Blue), Pink, Green and White
AND IS THE VIBRANT AND MALLEABLE ANGEL HAIR WIRE!
Please send a note with your order if you want different colours.
Because the EL naturally glows blue/green the brightest colour of the wire is the Light Blue, Lime Green and White. The least bright are the Red and Purple as they have to be filtered the most to get the colours right.
EL Driver
The Driver takes 2 X AA batteries – it works by having a built in voltage inverter that 'inverts' the 3 Volts from the batteries up to the 100 Volts needed to make the EL Wire glow.
The Driver is 9cm X 3.2cm X 2cm
There is a button for the 4 modes – Off, On, Fast Blink, Strobe
It has an 8cm wire coming out of it that leads to the…
SPLITTER
The Splitter is 40cm long in total,
it is 20cm of wire which then splits into 3 separate strands which are all 20cm long and lead to the…
EL WIRE
There is then another 20-25cm from the connector until the actual glowing start of EL Wire – then there is 3 X 1 metres of gorgeous glowing wire!
Its not complicated or fiddly – I've just given all those details if you want to plan your costume before you buy the set
This set can turn any item of clothing into a party outfit.
The whole kit is ready to use – just plug and play!
– – – – – – – – – – – –
This wire comes with a standard connector so simply plugs into any EL driver – this makes it easy to change between coloured wire on one driver
By using splitters you can also connect different strands to the same driver.
EL wire has loads of uses
It looks amazing when decorating the interior or exterior of cars, can be used inside and outside houses and can even be threaded into clothes and hats
–
This wire can be cut into smaller lengths and attached to another driver.
Our drivers can run many different strips of wire as long as the total length of the wire is under the driver's maximum capacity.
With some care, the EL wire can be attached to speaker wire to make patterns or extend the wire over gaps where it isn't needed.
Joining tape and heat-shrink tubing are also available if you want to cut the EL wire and rejoin it or perhaps attach some wire to a different driver.
Cutting the wire into the length you choose is simple… but rejoining it takes care and attention.
You will also definitely need some wire-strippers.
You can happily use the joining tape and heat shrink tubing supplied for a decent join but if the joint is likely to encounter stress (e.g. if it is threaded into clothes that will then be bent and jostle) or if the join may be hard to reach (e.g. behind a panel in a car) then we would advise soldering to avoid future hassle.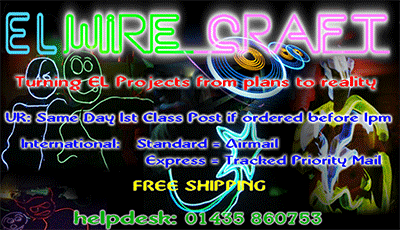 It is a cliche to say you are only limited by your imagination but with EL wire it is true!!!
If you have not seen it before it is like a really long glow stick that lasts over 5,000 hours.
We're sure you will be amazed – feel free to message us with any questions.
We have some crazy glowing masks & glasses that go well with this kit – take a look!
Additional information
| | |
| --- | --- |
| Weight | N/A |
| Dimensions | N/A |
| Colour | 1 will send message with my choice, White, Light Blue (Tron Blue), Lime Green, Deep Blue, Red, Pink, Turqouise Green, Orange, Grass Green, Purple, Yellow |