A4 EL Panel – Single or 4 x Connectors
£40.00 – £87.00
Description
This listing is for a white A4 (20cm x 30cm) Electro-Luminescent Panel.
It is available either with a single connector
or with 4 connectors so you can cut it into 4 separate shapes or you can simply snip off three of the connectors and use the whole panel
Available in: Light Blue and White
This is very useful for making costumes, backlight, modern lighting, advertising or as a flat field light box for calibrating telescope cameras
It comes with or without a Driver/Inverter.
The Driver it comes with also has more 12v input options available, it is this Adaptable A4 Driver
Depending on your use there is a choice of Mains, Crocodile Clips or Portable Inverter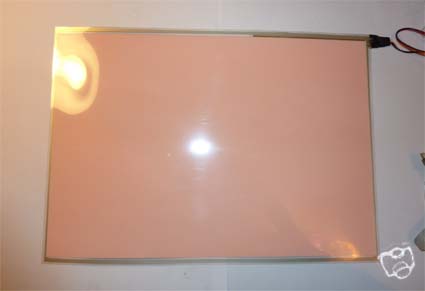 There is a guide to cutting EL Panels in the tips section of our website:
How to Cut Electroluminescent Tape and Panels
A whole range of driver/inverters e.g. ones that plug in to car lighter or plug into household mains electricity are also available – if one of these is more convenient than the portable driver that can be arranged
Filters can be put on top of the panel to change the colour.
Or other colours are available please contact us and it can be made for you.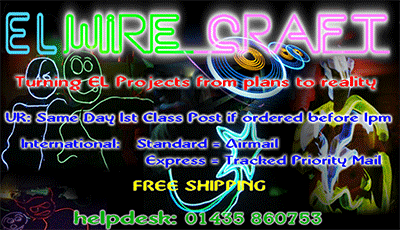 EL Panel is an incredibly versatile material it can be bent and wrapped around things and with care, can even have shapes cut into it
The Panel can be used for advertising by sticking a logo acetate over it for a professional effect