Adaptable Driver 24v for 5-15m EL Wire (Water Resistant)
£12.00
In stock
Description
This is a large and powerful EL Driver that is sealed within a waterproof casing – reducing the whistle while also making it water-resistant
This is a driver designed for a 24V input and of course it outputs the Voltage needed for EL Wire, EL Tape and EL Panels
The Driver is rated to run between 5 and 15 meters of EL neon glow wire or 50 – 300 square centimetres of EL Tape or EL Panel
The driver DOES NOT have an on/off switch or a blinking function
But does have two integral screw fixing points on either side of it so it can be fastened down
It has a water-tight seal all round it including where the wires come in and out of it. Attached in a sensible place it should withstand all types of weather
Its dimensions are:4cm X 3cm X 3cm (L x W x H)
the screw fixing tabs stick out 6mm each on the 4cm side and could easily be cut off
The wire from the Cigarette lighter attachment is just under 1metre long
Wire from inverter to EL wire connector is 17cm
** REMEMBER – The EL Driver will keep running while it is attached to a power source even if there is EL Wire or EL Tape attached to it or not**
*All the EL wire we supply comes with a connector, so they plug straight into the driver*
The standard EL wire connector making it able to quickly switch between different coloured wire or add a splitter and have several strands of wire – simply clip it in and out the connector
This driver can also run many strands and colours of EL wire as long as the total length of wire is 15 meters or under
speaker wire can be used to extend the distance between the inverter and the start of the glowing EL wire.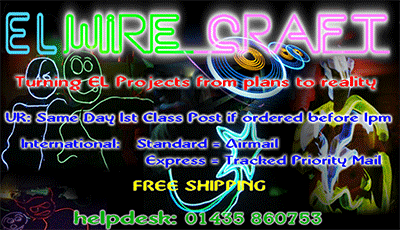 – – – – – – – – – – – –
EL wire has loads of uses
This Neon Wire looks amazing when decorating the interior or exterior of cars, can be used inside and outside houses and can even be threaded into clothes and hats
–
It is a cliche to say you are only limited by your imagination but with EL wire it is true!!!
If you have not seen it before it is like a really long glow stick that lasts around 5,000 hours
We're sure you will be amazed – feel free to message me with any questions
Additional information
| | |
| --- | --- |
| Weight | 0.078 kg |
| Dimensions | 7.5 × 5 × 5 cm |