4.5V USB Powered Driver / Inverter for 5- 15metre of EL Wire
£9.00 – £22.00
Will make between 5 and 15 meters of EL wire glow.
Can be powered from any USB port or with a USB rechargeable Li-ion battery which can be charged using a USB port.
Available with a 1.2m long cord with a plunger switch on the end or without a switch.
**Please note** We are currently unable to airmail rechargeable Li-ion batteries to Northern Ireland, the Channel Islands, Europe or Internationally.
Description
Here we have a USB Driver which will run from 5 to 15 meters of EL neon glow wire.
We have two types, one with no switch and the other with a 1.2m long cord with a plunger switch on the end. The switch will latch on when fully pressed down, press for a second time and the switch will latch off.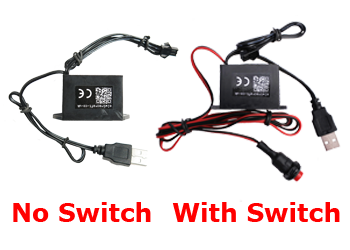 DIMENSIONS:
40mm x 32mm x 30mm
The screw fixing tabs stick out 6mm each on the 39mm side and could easily be cut off
These EL Drivers can be powered by any USB Port
Or they can be powered by a rechargeable Li-ion battery that can be recharged using a USB port
(*Li-ion Batteries are only available to the UK due to airmail postal restrictions)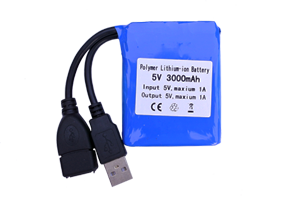 DIMENSIONS:
6.5cm x 5.5cm x 8mm
Leads are both 9.5cm long
SPECS:
Capacity: 3000mAh
Input power: DC 5.2V
Output: DC 4.5V – 5.2V
Over-charge / discharge protection: Yes
*All the EL wire we supply comes with a connector, so they plug straight into the Driver*
This EL Driver can run many strands and colours of EL wire as long as the total length of wire is 5meters or under – splitters are available in our store
– – – – – – – – – – – –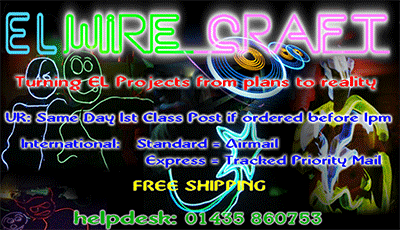 EL wire has loads of uses
It looks amazing when decorating the interior or exterior of cars, can be used inside and outside houses and can even be threaded into clothes and hats
–
The EL wire can be cut into smaller lengths and attached to another inverter
Or with some care, the EL wire can be attached to speaker wire to make patterns or extend the wire over gaps where it isn't needed
It is a cliché to say you are only limited by your imagination but with EL wire it is true!!!
If you have not seen it before it is like a really long glow stick that lasts around 5,000 hours
We're sure you will be amazed – feel free to message me with any questions