Curved Shape for Tron Costume 40cm
£12.99 – £32.98
SKU:

2cmx40cm_curved_
Categories: EL Shapes, EL Tape
Tags: cool neon, el foil, el panel, el paper, el tape, el wire, electroluminescent, electroluminescent panel, electroluminescent sheet, electroluminescent tape, electroluminescent wire, metaphysical, new age, occult
Description
This is a 2cm x 40cm piece of EL Tape curved to go round the ID Disc and over the shoulder
It can also be used on other parts of a costume such as the legs, arm or neck EL Tape glows brightly and looks really striking. This piece is available in these colours:
Deep Blue

,

White

and

Light Blue (Tron Blue)
Dimensions of the products:
If you are making a costume it is a good idea to plan it out properly.
This EL Tape is available with or without a powerful driver
2cm x 40cm Curved Outline
The EL Tape is curved so is 37 cm from top to tail – it has been designed to go on the back round the ID disc and curve over the shoulder
The tape is just 350 microns thick – that is 1/3rd of a millimetre!
If you order two pieces then it will come with a free 2-way splitter
The Driver that is offered is a powerful 8XAA battery portable Driver/Inverter, capable of powering 6 pieces of this EL Tape
If it is to be part of a larger EL project then you would be better off with a more powerful driver and some splitters – there is a selection available in our online store.
All our EL Wire and EL Tape has a connectors attached so (with the right driver) it is just plug and play!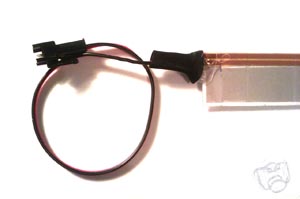 Standard EL Tape with wires and connector
This EL Pentacle is made from EL Tape which is paper thin (300 micron) so it is incredibly versatile and can be easily attached to costume or even a wall for decoration.