Glow EL Wire Alien Halloween Set
£8.99
Description
Make your own eerie glowing Alien Face mask using this set supplied:
1 metre of high brightness 3.2mm EL wire to outline the Aliens face
1 metre of 1.5mm Maxi EL Wire to make the shape of the eyes
Portable 2 x AA inverter with continuous or strobe setting
3 way splitter – you only need 2, but you will have an option to add more wire to your mask at a later date
Wire twist ties to help attach the wire to your mask
Advice on making the mask: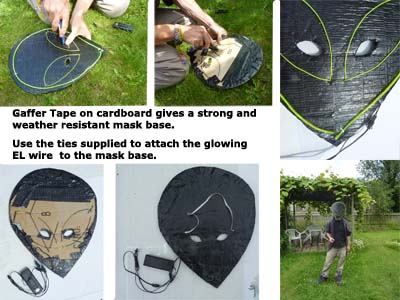 Making an EL Glowing Alien Mask
Aliens don't have to be green – choose from a selection of colours
Light Blue (Tron Blue), Deep Blue, Pink, Red, Orange, Yellow, Lime Green and White
Because the EL naturally glows blue/green the brightest colour of the wire is the Aqua, Lime Green and White. The least bright are the Red and Purple as they have to be filtered the most to get the colours right.
–
This wire comes with a standard connector so simply plugs into any EL inverter – this makes it easy to change between coloured wire on one driver.
By using splitters you can also connect different strands to the same driver.
– – – – – – – – – – – – – – – – – – – – – – – –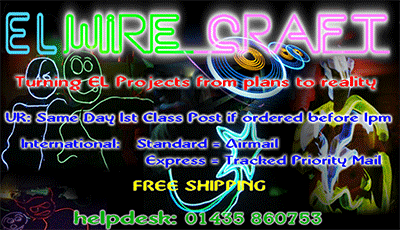 EL wire has loads of uses and comes in different thickness and even in thin strips and panels.
It looks amazing when decorating the interior or exterior of cars, can be used inside and outside houses and can even be threaded into clothes, hair and hats
It is a cliché to say you are only limited by your imagination but with EL wire it is true!!!
If you have not seen it before it is like a really long glow-stick that lasts over 5,000 hours.
We're sure you will be amazed – feel free to message us with any questions.