A5 Cuttable EL Panel – Can be Cut Into Four Shapes
£20.00 – £47.00
Create their own glowing designs out of this super thin, cuttable EL Panel which is much thinner than a credit card (just 1/3mm thick) and glows beautifully.
Available in various colours.
Supplied with a 4-way splitter allowing 4 pieces of your design to be lit with one driver.
Choice of driver with a range of power supplies from mains, to batteries, to direct 12v connection etc.
**Please note** We are currently unable to airmail rechargeable Li-ion batteries to Northern Ireland, the Channel Islands, Europe or Internationally.
Description
This is the latest breakthrough in helping people create their own glowing designs out of super-thin EL Panel – EL Panels are much thinner than a credit card (just 1/3mm thick) and glows beautifully.
This Cuttable A5 EL Panel is available in these colours:
White, Red, Light Blue and Green
To use this Panel, the first thing you must really think through is your design
If you have a pretty good idea what you want to make then you should decide whether you have to use this cuttable panel, or whether you can use one of our standard EL panels
If you simply have to have your EL shapes cut out then this cuttable panel is the thing for you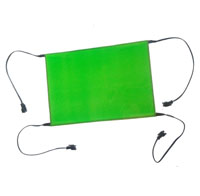 A5 cuttable EL Panel in Green
The shapes you cut will still need a driver/inverter to power them so you will need to decide on the best driver for you:
In the drop-down menu there is a choice of either mains powered and/or portable (8 x AA batteries) Driver. These are both capable of powering 400squ cm of EL Tape
Maybe the shapes you want to cut are tiny and you could use a smaller driver. In this case just choose NO DRIVER and, if you don't already have one, purchase a 2 x AA battery Driver here.
A 4 Way Splitter is also provided
There is a guide to cutting EL Panels in the tips section of our website:
How to Cut Electroluminescent Tape and Panels