Basic EL Wire Set = 3 x 1 metre EL Wire + Driver
£9.99
This basic EL wire set is plug and play and comprises:

3 x 1 metre lengths of high quality (3.2mm) EL Wire.
2 x AA portable driver (with flashing option).
Choice of EL wire colours.
1 x standard 3-way splitter.
30 x clear hoops for ease of attachment, of EL Wire to the costume and removal for machine washing.
Description
3 x 1 Metre of EL Wire, Splitter and Portable Driver for up to 5 metres of EL Wire.
This listing is for:
1) 3 x 1 metre of high quality (3.2mm) Electroluminescent Wire
2) 2 x AA portable Driver (with Flash)
3) Standard 3 way Splitter
The splitter lets you have 3 x 1 metre lengths of EL Wire attached to one driver/inverter – This gives you greater control and flexibility in the design of your costume.
4) 30 x Clear Hoops to make it easy to attach the EL Wire to the costume and also make it removable so you can put it through the washing machine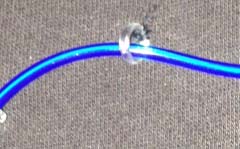 The EL Wire can be any combination of these colours:
Light Blue, Purple, Deep Blue, Pink, Red, Orange, Yellow, Lime Green, Turquoise-Green and White
The 3.2mm diameter EL Wire is one of our brightest!
To make it easier to design your outfit, below are the dimensions of the inverters and lengths of connecting wires – there are also tips on how to create your costume.
POWER PACK / INVERTER (Driver)
The Power Pack takes 2 x AA batteries and has a built-in voltage inverter that 'inverts' the 3Volts from the batteries up to the 100Volts needed to make the EL Wire glow.
The power pack/inverter dimensions are: 9cm x 3.2cm x 2cm
It has the following controls: On / Flash / Strobe / Off
It has an 8cm wire coming out of it that leads to the…
SPLITTER: The Splitter is 40cm long in total; it is 20cm of wire which then splits into 3 separate strands which are all 20cm long and lead to the…
EL WIRE
There is then another 20-25cm from the connector until the actual glowing start of EL Wire – then there are 3 x 1 metre lengths of gorgeous glowing wire!
Its not complicated or fiddly
This set can turn some clothing into a Tron fancy dress in many ways:
1 metre goes down each arm and
1 metre for the front of the costume
OR
1 metre can go across the back and part way down the arm
1 metre to make a helmet
1 metre for the front of the costume
The whole kit is ready to use – just plug and play!
We have some crazy glowing masks & glasses that go well with this kit – take a look!