EL Arrows 4cm wide by 8cm
£3.99 – £51.95
Ideal for fancy dress costumes or safety signage.
Available in white or light blue with a choice of driver.
Laminated EL Arrows 8cm long x 4cm wide. Simply plug into your choice of driver.
Description
Here we have EL Arrows inside a laminate that is 4cm wide and 8cm long with wires and connector already attached (needs an EL Driver)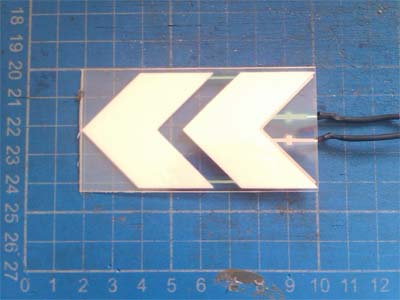 These EL Arrows are available in white and light blue.
Ideal for fancy dress costumes or safety signage
–
EL Tape is paper thin (300 micron) so it is incredibly versatile and can be easily attached to costume or even a wall for decoration and can be bent and wrapped around things.
–
It can even have holes and shapes punched into it and be cut to your chosen shape
We have EL Panels and EL Tape in all sorts of shapes and sizes
including animated and sound activated moving panels
All our El Wire and Tape comes with wires and connectors attached
ALL EL WIRE AND EL TAPE NEED A DRIVER/INVERTER TO MAKE THEM GLOW – Available from our online store.