Glowing Pentacle Made From EL Tape
£4.99 – £11.99

Here we have a glowing 10cm diameter circle of EL Tape with a 3-D Pentagram inside.

SKU:

penta_
Category: EL Shapes
Tags: cool neon, el foil, el panel, el paper, el tape, el wire, electroluminescent, electroluminescent panel, electroluminescent sheet, electroluminescent tape, electroluminescent wire, metaphysical, new age, occult
Description
Here we have a 10cm diameter circle of Electroluminescent Tape with a 3-D Pentagram inside available in
Deep Blue

,

White

and

Light Blue (Tron Blue)
Like all EL Tape and EL Wire this EL Shape needs an Inverter/Driver to make it glow – there is an option to have one supplied in the drop down menu below.
If it is to be part of a larger EL project then you would be better off with a more powerful driver and some splitters – there is a selection available in our online store.
All our EL Wire and EL Tape has a connectors attached so (with the right driver) it is just plug and play!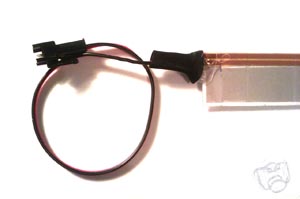 Standard EL Tape with wires and connector
This EL Pentacle is made from EL Tape which is paper thin (300 micron) so it is incredibly versatile and can be easily attached to costume or even a wall for decoration.