EL Ribbon – 1.5cm x 20cm
£5.00
Description
This listing is for 1.5cm wide and 20cm long Electroluminescent Tape.
This EL Ribbon needs a small inverter to power it – Visit our shop to see a selection of inverters and other EL goodies.
The Colour glows a beautiful Light Blue (Tron Blue), White or Red.
As you can see from the picture it is divided into segments; the exact dimensions are:
The Strip itself is 1.5cm x 20cm
The Glowing section of it is actually 1.1cm wide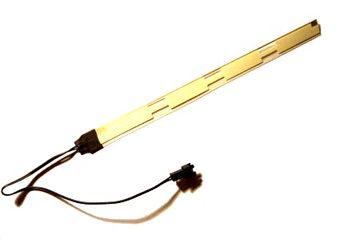 First there is a 1.1cm X 4.7cm glowing block
Then a 0.4cm X 1.5cm joining section
Next are two blocks of 1.1cm X 3.5cm
Joined by two 0.4cm X 1.5cm sections
Finishing with a 1.1cm X 4.2cm block
The wire to connect it to an inverter is 23cm long and has a standard EL Connector on the end.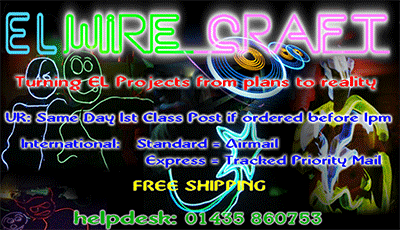 EL Tape is an incredibly versatile material as it can be bent and wrapped around things.
It can even have holes and shapes punched into it and be cut to your chosen shape.
It can be sliced into smaller strips in a similar way to EL wire (as with EL Wire, rejoining it again needs some care and attention)
We also have EL Tape available in the following sizes: 2cm x 25cm / 2cm  x 40cm and 2cm x 1 metre lengths
Additional information
| | |
| --- | --- |
| Weight | N/A |
| Dimensions | N/A |
| Colour | |