EL Tape 3cm x 1metre DOUBLE ENDED Cut to Make 2 Strips of Any Length
£30.00 – £42.00
Available in a range of colours.
Simply plugs into your choice of driver.
Supplied with a 2 Way Splitter so you can cut the tape into two pieces and light up both pieces from just one Driver.
Description
With this 'double ended' tape you end up with two pieces of EL Wire for the price of one! – just cut it in half!!!!
This is a 3cm wide and 1 metre long strip of Electro-Luminescent Tape.
*The full Glow area of the Tape is 2.3cm x 1 metre*
The EL Tape has wires with connectors attached to BOTH ENDS: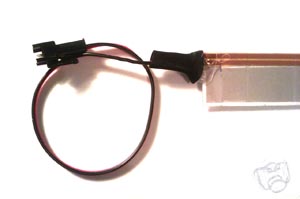 This means it can be cut into two pieces of any length you choose.
A 2 Way Splitter is also provided so you can run both the EL Tapes off of one driver.
When cutting EL Tapes or Panels, it is best to use sharp scissors or craft knife and to seal the cut afterwards with glue and/or clear nail varnish.
Currently, in stock we have these colours:
Light Blue (Tron Blue), Red, Green, White and Deep Blue
In the drop down menu is also the option to buy the EL Tape with a powerful mains powered or portable Driver (8xAA batteries)
These Drivers are powerful enough to drive about 1 1/2 metre of this (3cm x 1metre) EL Tape in total and will make the Tape plug and play
(If it is more convenient to have a car-lighter attachment instead of the 8 x AA battery box to power this driver please let me know)
There is a whole selection of drivers available at El Wire Craft that could power this EL Tape such as Sequencer or Sound Activated Drivers.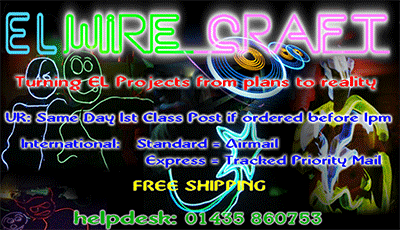 EL Tape is an incredibly versatile material it can be bent and wrapped around things and with care, can even have shapes cut into it.