EL Tape 5cm x 33cm single connector
£18.00 – £45.00
Description
This is a 5 cm wide and 33cm long strip of glowing Electroluminescent Tape.
It is ideal for using as an arm band for Detroit: Become Human cosplay

If needed, this EL Panel can cut down to size using sharp scissors
When cutting EL Tape or Panel it is best to use sharp scissors or craft knife and to seal the cut afterwards with glue and/or clear tape.
This EL Panel is available in Light Blue (Tron Blue) and White.
In the drop down menu, you'll have the option to buy the EL Tape with a powerful mains powered or portable driver (8XAA batteries)
These drivers are powerful enough to drive 2 of these EL Tapes in total and will make the Tape plug and play
There is a whole selection of drivers available at El Wire Craft that could power this EL Tape such as Sequencer or Sound Activated Drivers.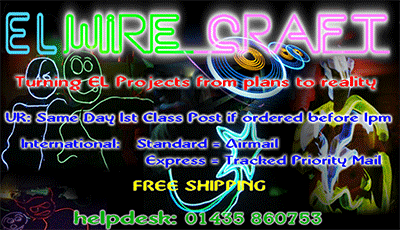 EL Tape is an incredibly versatile material it can be bent and wrapped around things and with care, can even have shapes cut into it.
Additional information
| | |
| --- | --- |
| Weight | N/A |
| Dimensions | N/A |
| Driver Type | NONE, Portable Driver (8XAA), Mains (UK Plug), Mains (Euro Plug), Mains (US Plug), Mains (UK Plug) + Portable (8xAA), Mains (Euro Plug) + Portable (8XAA), Mains (US Plug) + Portable (8xAA), Rechargeable 3000 mAh (UK Adapter Plug), Crocodile Clips, Car Lighter Attachment |
| Colour | |