GLOWING LETTERS EL Panel Alphabet
£3.00 – £112.00
Description
These glowing letters are thinner than a credit card and glow amazingly bright
They have many uses from advertising signs or maybe you want an original way to have your kids names on a bedroom door
Each letter is just over 4cm high and just under 4cm wide
Here is the available letters we have:
A B C D E F G H I J K L M N O P Q R S T U V W X Y Z
1 2 3 4 5 6 7 8 9 0
! ? £ $ @ +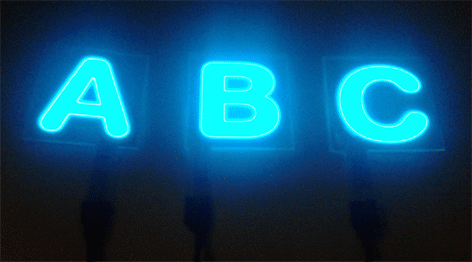 Aqua EL Letters
As these are made with EL Panels then they need an EL Driver to make them glow
you may already have an EL Driver and be adding these letters in which case you can choose 'NO DRIVER'
This set has the option of 6 different types of Driver
Mini Driver = for 1-6 EL Letters
Basic (2xAA) Driver = for 1-15 EL Letters
8xAA Driver= 10-50 EL Letters
Mains Driver = 10-50 EL Letters
Sound Activated Driver = 1-10 EL Letters
Sound Activated + Portable (8xAA) Driver = 25-50 EL Letters
Please choose how many EL Letters you want and your driver selection in the drop down menu
We have a huge selection of different drivers, Sound Activated and Sequencers in stock that will all work with these EL Letters
To work out which driver is best, you could consider each EL Letter is equal to around 25cm of EL Wire
e.g. if an EL Driver is rated for 1m of EL Wire then it will power 4 EL Letters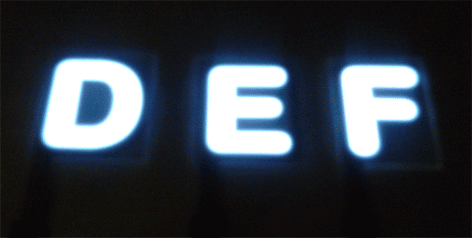 White EL Letters
These EL letters are currently available in: White, Light Blue and Red
Please choose which colour you would like and how many letters you will need
You will have to send us a message with your choice of letters either by 'add a message' on the PayPal page when you make payment or click here to email us your choice.
However, many EL Letters you choose we will include a splitter to bring them all together to a single driver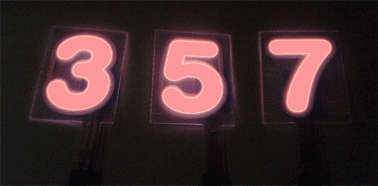 Red EL Letters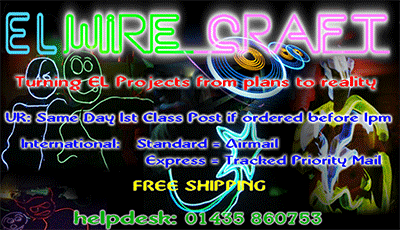 EL Panel and Tape is an incredibly versatile material it can be wrapped around things.
You can join loads of them together using splitters and it can even have holes and shapes punched into it and be cut to your chosen shape
Additional information
| | |
| --- | --- |
| Weight | N/A |
| Dimensions | N/A |
| Colour | |
| Power Connector | NO DRIVER, mini 1xAAA Driver, 2 X AA, 9v, Mains (UK Plug), Mains (Euro Plug), Mains (US Plug), Mains (UK Plug) + Portable (8xAA), Mains (Euro Plug) + Portable (8XAA), Mains (US Plug) + Portable (8xAA), Sound Activated, Sound Activated + Portable (8xAA) |
| Number of Shapes | |