GLOWING STICKGIRL SET = 7.5 metres EL Wire + Driver
£29.99 – £54.99
Description
Turn yourself into a glowing stickgirl!
This set is for a 'plug and play' EL Wire and Driver – but you have to attach it to a costume
*see the diagram below for a suggested setup*
With the set you get:
1) 3 pieces of 1 metre 3.2mm EL Wire
2) 1 piece of 3 metre 3.2mm EL Wire
3) 3 pieces of 50cm 3.2mm EL Wire
4) An EL Driver with either an 8 x AA Power Pack (batteries not supplied) or a rechargeable 3000mAh Li-ion battery (only available in the UK due to airmail postal restrictions)
This driver is powerful enough to glow up to 15 metres of EL Wire
5) 1 x mini 3-way splitter, 1 x  standard 3-way splitter, 1 x long 3-way splitter and 1 x 50cm extender
By 'daisy chaining' the splitters you can have all 9 metres of EL Wire attached to this one driver/inverter
6) 50 x Clear Hoops to make it easy to attach the EL Wire to the costume and also make it removable so you can put it through the washing machine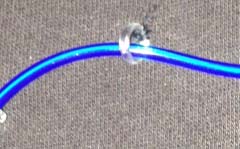 The EL Wire can be any combination of these colours:
Light Blue (Tron Blue), Purple, Deep Blue, Pink, Red, Orange, Yellow, Lime Green, Turquoise-Green and White
The whole kit is ready to use – just plug and play!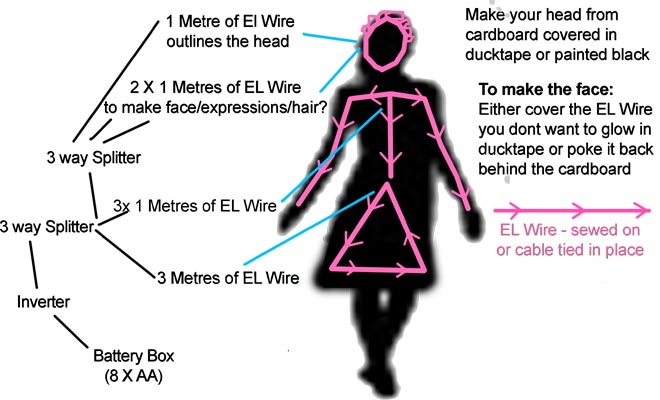 Here is the suggested layout – the EL Wire is recommended to run all round the hem of a dress
Dimensions of the products:
If you are making a costume, it is important to plan it out properly.
For this glowing girl set, the driver is very powerful and so it comes with a choice of two different power packs.
So here are the dimensions of all the parts plus lengths of wire between them.
THE POWER PACK
Takes 8 x AA batteries (not supplied) and is 12.7cm x 7.02cm x 1.9cm and has a 21cm thin power wire coming out of it that leads to the driver
OR
A 3000mAh rechargeable Li-ion battery which weighs 172g and is 7.3cm x 5.6cm x 2.2cm. This option comes with a 1A intelligent charger. Due to airmail restrictions this is option is only available for UK delivery.
THE DRIVER
The driver is 5.4cm x 3.4cm x 2.9cm
It has the controls on it – Off, Flashing or On
It has a 55cm wire coming out of it that leads to the…
SPLITTER
The Splitters are 40cm long in total,
it is 20cm of wire which then splits into 3 separate strands which are all 20cm long
The first has 3 channels and this splits off and lead to the…
EL WIRE
3 x 1 metre for the body
1 x 3 metres is for the skirt
3 x 50cm for the head – – This is the really fun part of designing the expression on the face of your stick man/girl
Its not complicated or fiddly – I've just given all those details if you want to plan your costume before you buy the set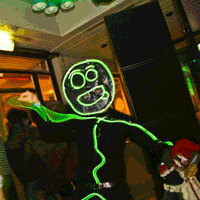 The stickguys and stickgals in these pictures were designed by international party animal Jak Hammer and his amigos!
We have some crazy glowing masks & glasses that go well with this kit – take a look!
The whole kit is ready to use – just plug and play!