EL Iron Man Set (Mark 6) = EL Tape Glowing Eyes + EL Panel Triangle
£19.99
Description
With this set you get:
2 pieces of 3cm x 5cm EL Panel for the Iron Man eyes in a choice of colours
A Triangle EL Panel for the Arc Reactor, 18cm on long side, 12cm on short sides and 9cm at deepest point
A 2 x AA battery powered EL Driver with trigger switch to power the EL panels
2 x 2-way splitters help the panels fit the costume.
The suggested setup is:
The Driver is held on the body near the chest
One 2-way-splitter comes out and one channel goes off to the triangle panel acting as the Arc Reactor near the chest
The other channel has a second two-way splitter going off to the helmet to power the 3cm x 5cm EL Panels for the eyes
These EL Panels are NOT SEE-THRU so you must design the eye piece to be above or below the actual eye
By having it on a second 2-way-splitter it makes it easier to unplug and remove the helmet – if it all runs off a 3-way-splitter, which it could, it would not be so easy to unplug the head mask
The kit does not include the mask or and its best to put a design over the glowing Arc Reactor – apart from that, the whole kit is ready to use – just plug and play!
A wide selection of other EL Tape, EL Wire, Sequencers, Drivers and helpful EL accessories are available from our online store.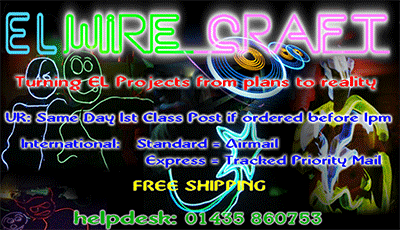 – – – – – – – – – – – –
This EL Panel comes with a standard EL Wire connector so simply plugs into any EL driver.